Epsom Salt can be found on the shelf of your local grocery story, pharmacy, online at Amazon. Walmart, Target, Sam's Club and many other places.  It can be purchased for as little as $2.00 a bag up to $25.00 depending on how often you use it.
Listed below are a couple of ways it can be...
Read Full Post »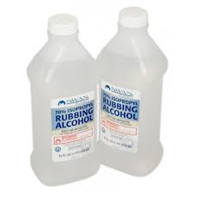 Rubbing Alcohol, found on you're the shelf of your local grocery story or pharmacy, can be purchased for $2-$6 per bottle and used for more tips than we have time to discuss in one blog.  
Here we go….
Tip #1: Defrost your wi...
Read Full Post »
Found in your local grocery store aisle, distilled white vinegar, can be used to clean many areas of your home. We compiled the many uses of vinegar in cleaning your home.
The cleaning uses of vinegar are many from counter tops to mattresses vinegar is a natural way to clean your home inside and out. We put together a list of the top 25 tips for cleaning with distilled white vinegar:
• General a...
Read Full Post »